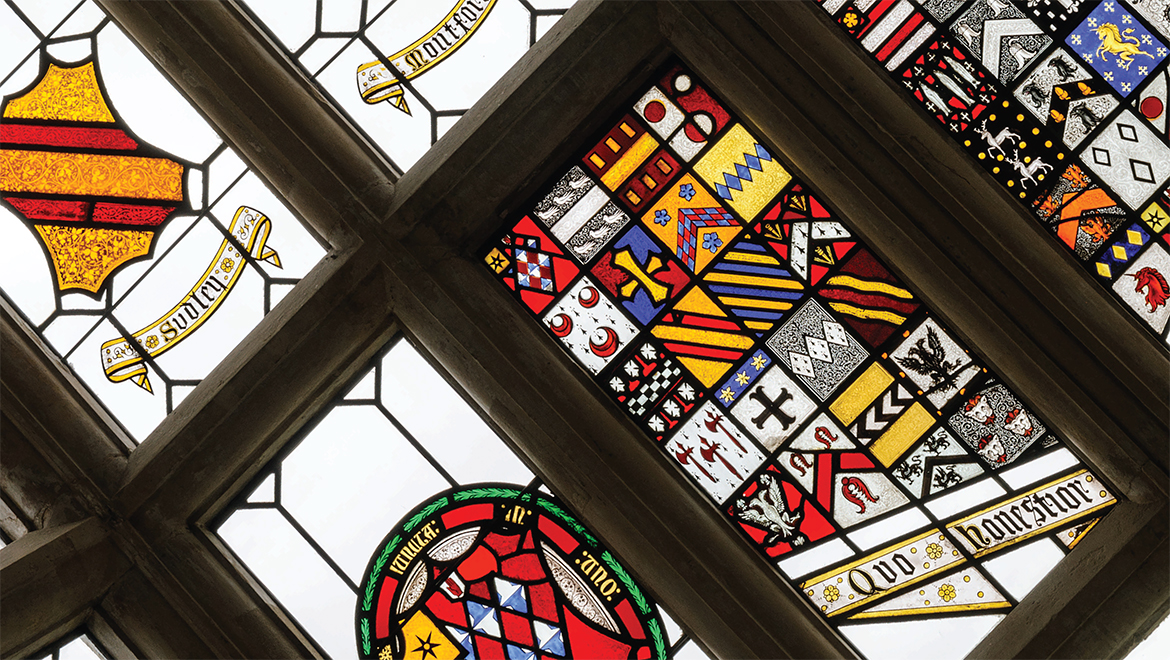 Elmore Court
Promotion. Elmore Court is a 700 year old family home, country house and place for maximum matrimonial celebration. Wildly young at heart, sustainably run and consistantly rated 5 stars, this uber chic and magical place commissioned WOOD&WOOD to design a high-end promotional brochure.
The extensive brochure is printed at A3 size for client presentation, at A4 size for clients to keep and as an interactive Pdf to send digitally.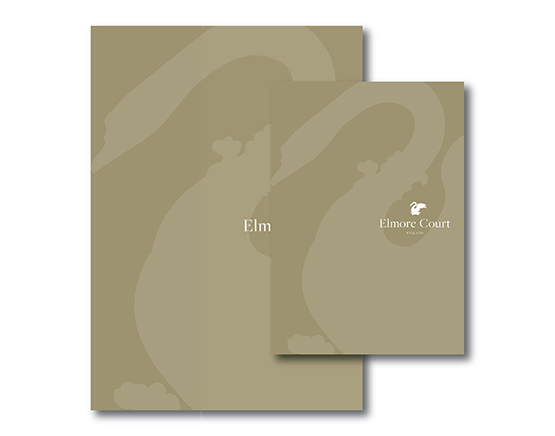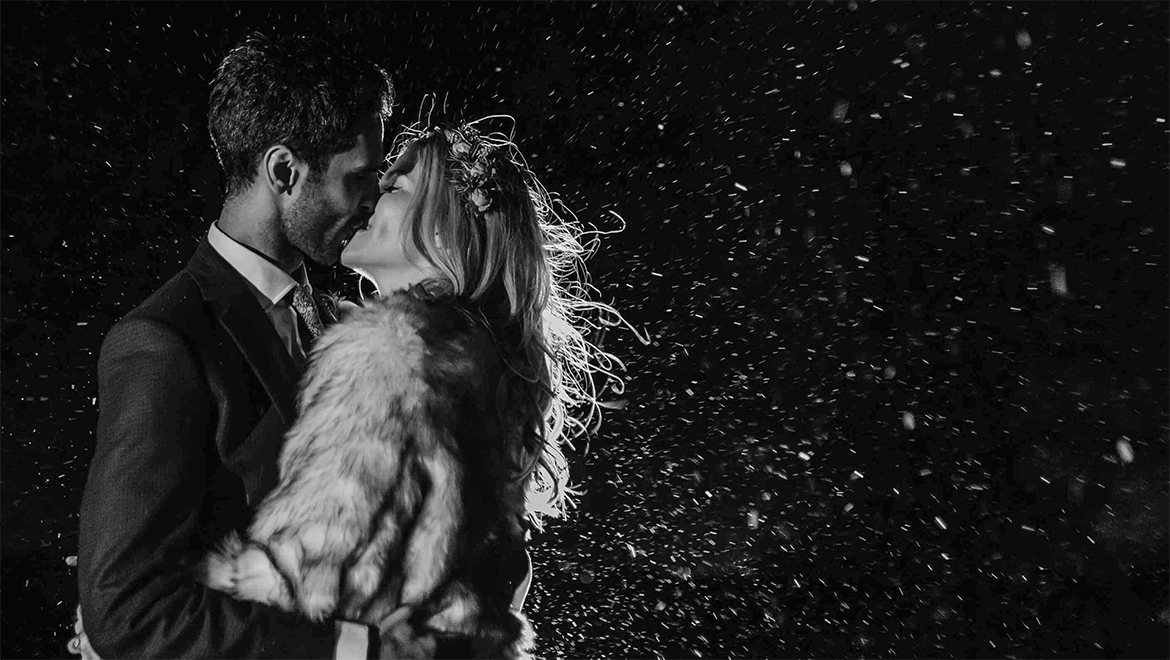 Elmore Court
Promotion. Elmore Court, 'Brides' magazine full page colour advert.
This campaign ties in with the beautifully atmospheric photography used throughout the new brochure that exudes the magic and uniqueness of Elmore Court.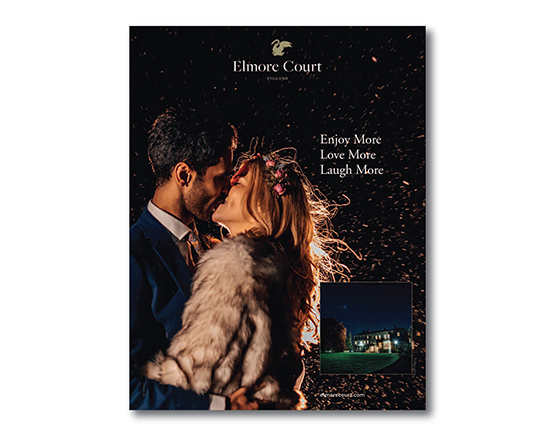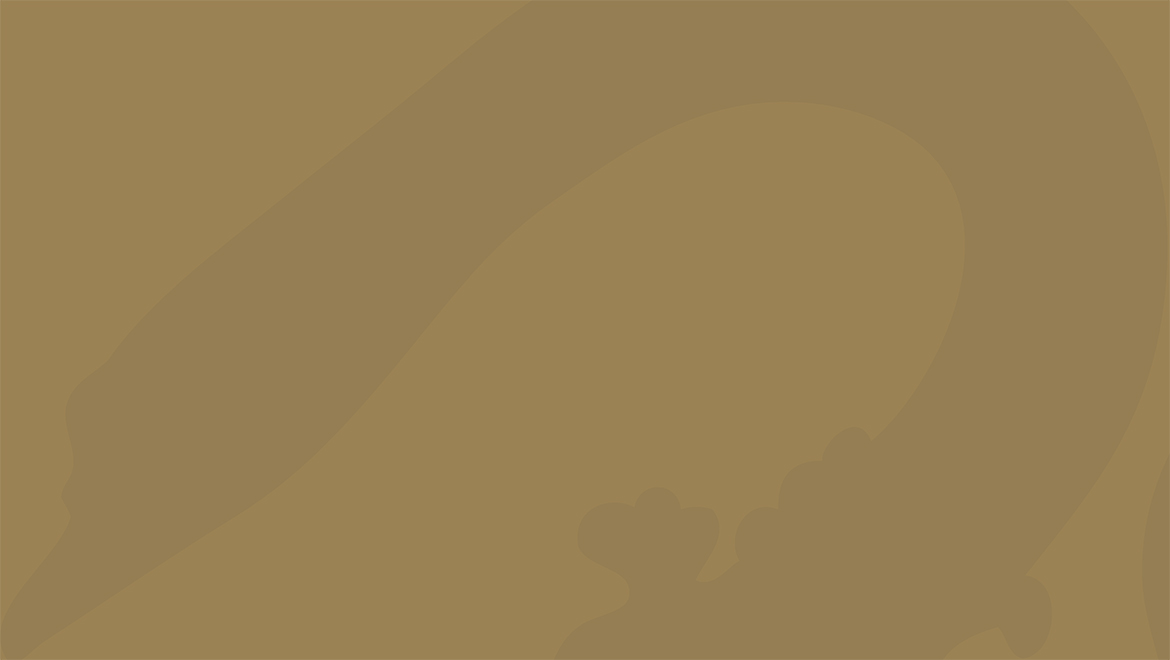 Elmore Court
Information. Stationary design incorporating gold inks and thermal lithography to compliment and differentiate Elmore Court.
Printed Letterhead, Continuation Sheet and Compliment Slips. A 'Word' version of the Letterhead was also supplied.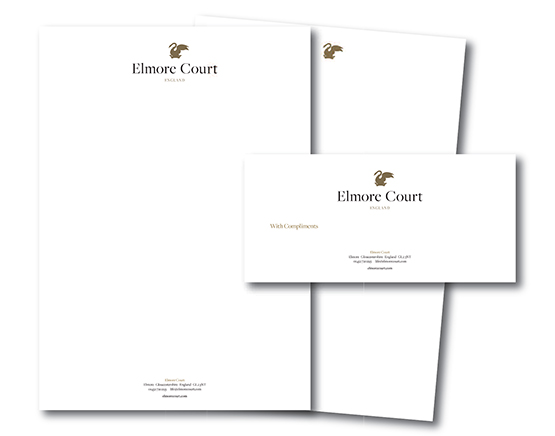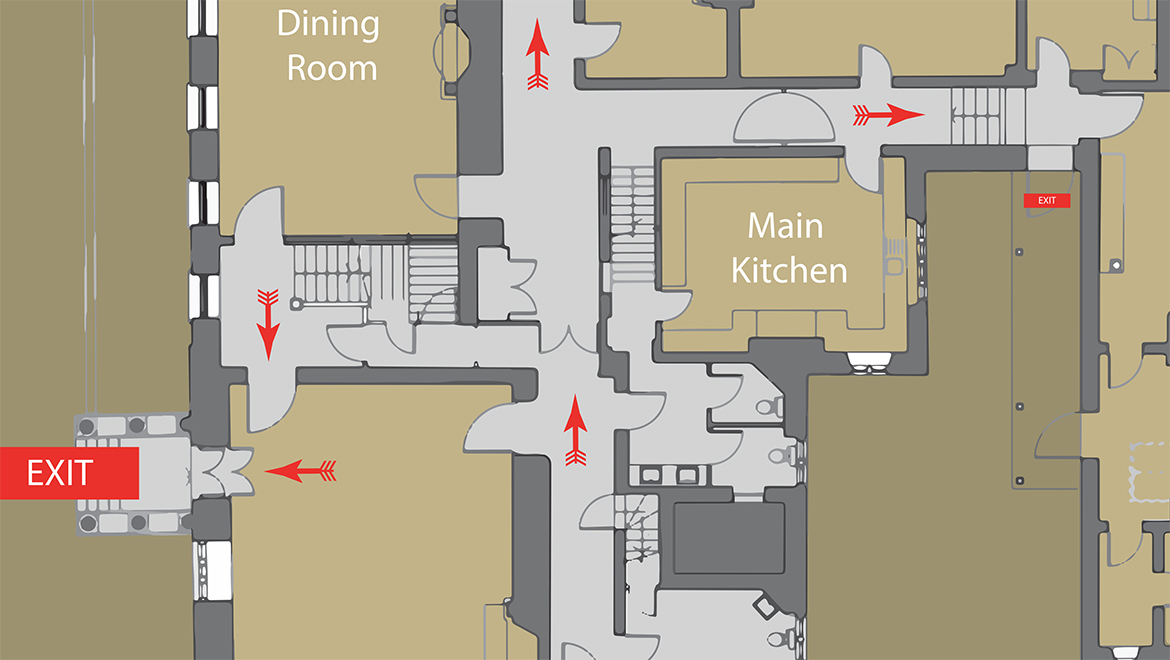 Elmore Court
Information. Key Card Holder for the 16 rooms of Elmore Court.
The Key Card Holder is designed to accommodate two Key Cards, so that it can be written upon, show floor plans for fire exits and be quirky enough for people to keep hold of as a 'keep-sake' of their Elmore Court experience.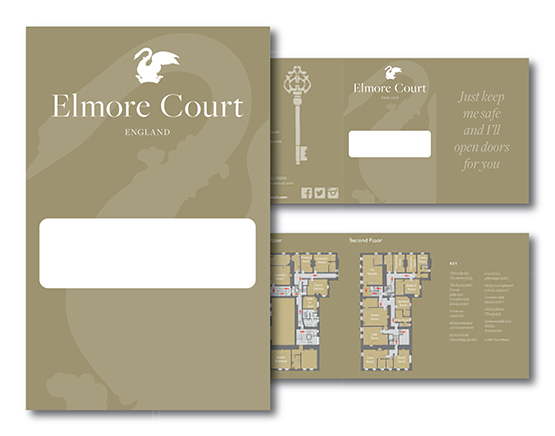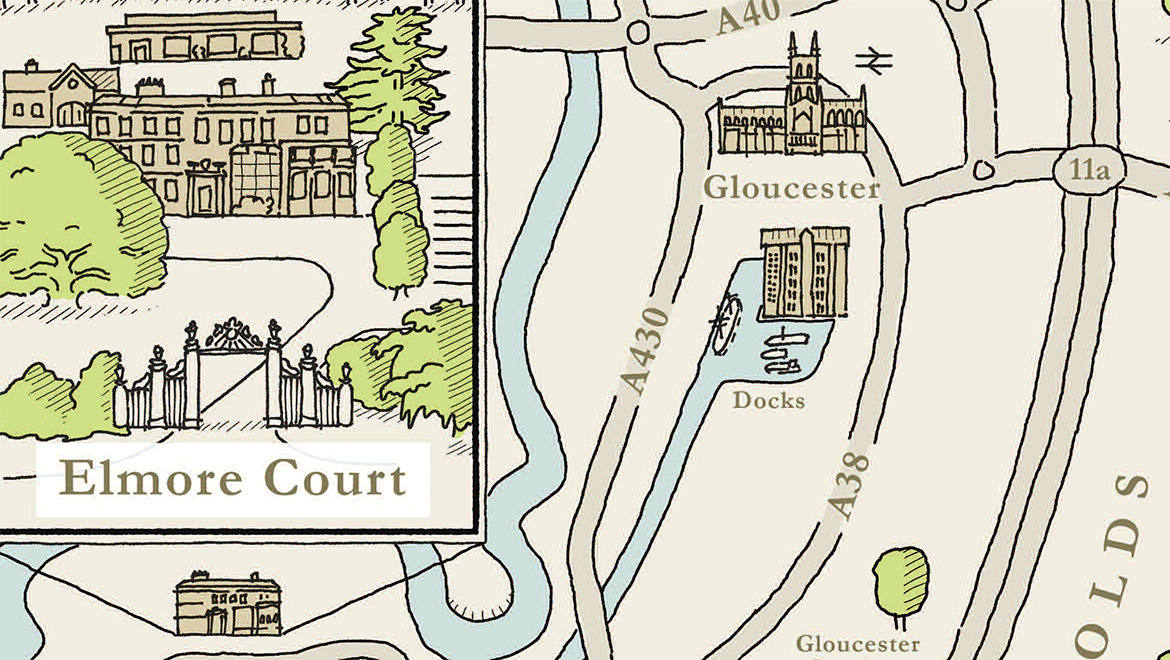 Elmore Court
Information. When Elmore Court expressed an interest to create a map to show their location, we had to pinch ourselves. For 30 years we had wanted to commission Richard Webb (isee.uk) to produce an illustrated map but had never had the right client, project or budget. Once we were able to get hold of some 30 year old samples and more importantly, locate Richard, the project progressed very quickly, on time and to budget.
Designed primarily for the Elmore Court brochure, the anticaption is to also produce 'line only' pads for both children and adults to colour in.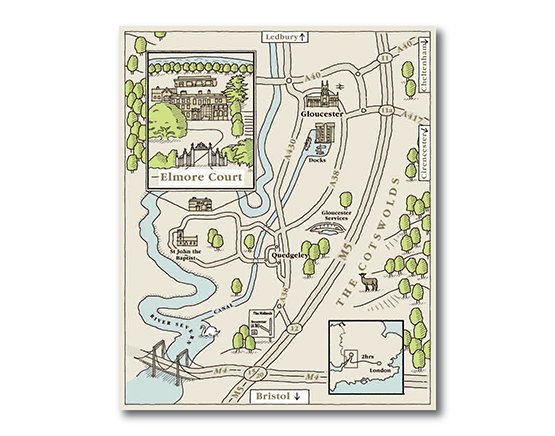 Carmarthenshire County Council
Information & Event. Carmarthenshire County Council is keen to exploit the 'media hub' that has become south Wales, by using its natural and man-made landscape for interpretation through story-telling into Film and TV productions and then consequently into tourism. All of which increases revenue spent within the county.
A bi-lingual invitation and brochure were produced for a launch event promoting these 'Film Opportunities'.
The Workers Gallery
Identity. A typographic identity for this unique art gallery in Ynyshir. The gallery produces original art, hosts exhibitions, workshops and talks; collaborates with other artists and likes to be at the centre of artistic agitation and debate.
The strong, upright Akzidenz Grotesk type is a visual metaphor for miners grouped in a pitcage. Grey and blackened, devoid of decoration. The 'Gallery' element represents an explosion of colour.
Avtex
Packaging. Carton packaging for the new Bluetooth audio Sound-Bar for Avtex. The packaging, as with that of their televisions, is designed to be high-end, using quality carton materials, print and hot-foil in order to emphasis the total purchase experience that Avtex offers its customers.
The Royal Mint
Advert. BICE 2017, the international exhibition for coins and medals in Beijing, China. This advert was one element of the artwork produced for this event, which included Exhibition Panels, Pop-Up and Overhead Panels.
Business Wales
Information. Business Wales is a fully funded service that provides impartial, independent support and advice to people starting, running and growing a business in Wales.
This new bi-lingual publication illustrates the typical customer journey through Business Wales and also the type of experience, expertise and variety that using Business Wales Advisers bring.
Avtex
Presentation. Interactive and digitally printed sales presentation incorporating hyperlinks making it highly usable and enabling it to be shown at any size, anywhere and on any device.
Avtex
Promotion. Catalogue Twelve. Latest product catalogue for dealers, showcasing the Avtex range of television, sound-bars, satellites, aerials, satellite navigation systems, brackets and bags.
Produced in three languages, Dutch, English and French, the catalogue must mirror the 'brand' values across various International markets.
Avtex
Information. Comprehensive, multi-lingual user manuals for the two new 9-Series range of TV's for Avtex – DRS and DRS-PRO.
Macartwork created in four colour for .pdf download, whilst printed as mono.
Avtex
Promotion. Platinum Membership pack for Avtex service care. Incorporating Folder, Brochure and Membership Card.
The pack is totally bespoke using quality paper/board stock, print and hot-foil, to continue the total purchase experience that Avtex offers its customers.
The Workers Gallery
Promotion. Advert and Poster promoting Chris Williams' success at being commissioned to design and produce the 2018 National Eisteddfod Chair sponsored by the National Museum Wales.
Chris is a gallerist at The Workers Gallery as well as a succesful artist / sculpture / designer.
Business Wales
Event. Poster, Agenda and Invitation materials communicating this Business Wales Mentoring Conference.
Wedding Stationary
Wedding stationary for Wendy & Ken. The 'Love' sculpture by Richard England at Spinola Bay, St. Julian's, Malta; Almond blossom and specifically Vincent van Goghs masterpiece 'Almond Blossom' (Saint-Rémy-de-Provence, 1890) along with the colour lilac, were inspirations.
Martha Stone Productions
Identity. This new production company originates, developes and produces stories for output across a variety of media – Book, Film, Online, Radio and TV.
The elements of the identity – the typeface 'Lettera' (designed for Olivetti) and RGB TV circles, represent the story telling heritage, experience and personality of the founder.
Business Wales
Awards Event. Invite, Menu and Table Plan celebrating the Business Wales Excellence in Mentoring Awards evening.
The Royal Mint
Packaging. Design for the new collection of products Celebrating Beatrix Potter and Her Little Tales. These include boxes, belly-wraps, certificates, booklets, BU packaging and collectors packs for this years characters, Peter Rabbit, Mr. Jeremy Fisher, Tom Kitten and Benjamin Bunny.
Cove Recruitment
Identity. Initial design development for a new recruitment agency.
Avtex
Packaging. Satellite Navigation packaging for the Tourer One and Tourer One Plus. Both products developed by Avtex in partnership with Garmin and the Caravan and Motorhome Club.